Child Sex Abuse Prevention and Protection Center
(aka) Stop It Now Inc

351 Pleasant Street, Suite B-319
Northampton, MA 01060-3900
Phone: 413-587-3500
Mission
Child sexual abuse harms millions every year. Victims and their families suffer silently, often with lifelong after-effects. Help prevent this. We can Stop It Now!
Real Life Story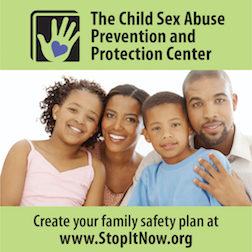 "Stop It Now! gives me hope for a world where families like mine can deal with our problems effectively and compassionately.

I was a victim of child sexual abuse, and the real tragedy for me was that the abuser was my father who was loved dearly by the whole family, including me. The only choices I felt I had were to keep the silence or cause disaster for us all.

Stop It Now! offers more options for dealing with the heartbreaking fact that most people who abuse are not monsters, but people in our own families and communities who we love. Stop It Now! offers us all the freedom to break through the secrecy and shame that surrounds this issue."

- Cici Porter, An adult survivor of child sexual abuse, accomplished musician, and activist.